Canadian Review of Materials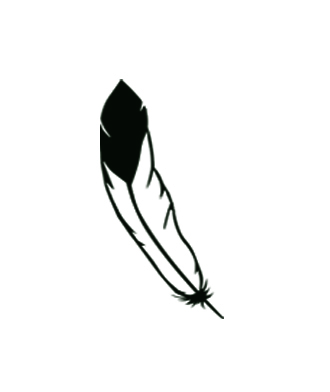 "You want me to go back on deck? said Sadie, her face flushed. "Are you trying to get us killed?
"I'm trying to save whatever this is. But no," said Alistair, softening. "Not on deck. There must be something on this level."
Alistair and Sadie both looked down at the creature, whose eyes were now closed. Sadie was chewing her lips, her hands on her hips. Alistair knew he had put his friends in an impossible situation and his head was spinning. This was not the treasure he had imagined they would find stored in the belly of the ship.
"Mer-mer-mer…" Ben stammered from across the threshold.
" Ben, spit it out. What are you trying to say?" said Sadie, taking a step toward him.
"Merpeople!' Said Ben, his face flushed. "It's one of those merpeople. I've heard grown-ups talk in the store when they don't think I am listening. They say there are stories of half-people, half-fish. They lived long ago near the shoals around the island. Fishers would spot them sunning themselves." He licked his lips and his next words came out like a squeak. "They say their song will sink a ship."
Thumping noises from above momentarily distracted Alistair.
The creature's long fish tail moved again. The scales reminded him of a cod: same greenish colouring, just bigger. Her arms appeared human, only her grey skin looked tougher and her fingers were webbed.
Ever since local businessman, Mr. Grey, began blasting for a tunnel allegedly to help fishermen unload their catches faster, things have changed in the small fishing town of Brigus in Newfoundland. There are strange shrieking sounds, hints of unusual creatures observed in the sea, mysterious leaks springing up in fishing boats, and Grey's men are seen hauling a heavy object onboard their ship. Best friends, Alistair, Sadie and Ben, who had been searching for treasure in a nearby cave, inadvertently become embroiled in the mystery surrounding these events. The safety of the town and the local ocean is at stake, and the town elders solicit the children's help in restoring the ancient Pact of Protection which will return harmony to their environment. Terrified of their responsibilities, they, nevertheless, rise to the challenge, each finding they have the ability and strength to do so.
Keepers of the Pact is an original and suspenseful page turner, set in an atmospheric, small, Newfoundland fishing village. The writing style flows seamlessly, and the plot, containing a variety of threads and substories holds one's attention from beginning to end. The story merges aspects of local history, native wisdom, folk lore, mythical creatures, mystery and adventure.
The three main characters, all aged about twelve, are particularly believable and sensitively drawn. While realistically apprehensive about their tasks, they face their fears, understanding the weight of responsibility they bear. Guided by their elders, they come to understand their own and each other's strengths while accepting their weaknesses. The author subtly captures undercurrents of emotions in their lives, making them realistic and credible.
Children will succumb to the allure of this unusual mystery and the very specific appeal of a novel, part adventure, part fantasy, that involves merpeople!